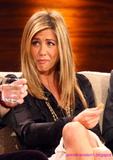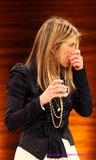 O programa alemão "Wetten, dass?" (Vai uma Aposta?), reuniu neste sábado (28) Jennifer Aniston e Owen Wilson, onde foram para promover o filme "Marley & Eu". E Jen acabou passando por uma situação inusitada. Ela e Owen, tiveram que comer um biscoito de cachorro, depois de perderem uma aposta. Os dois participaram de uma brincadeira e tiveram que dizer se achavam ou não que a dona de 28 cachorros da raça husky siberiano, conseguiria identificar os animais apenas pelo som deles bebendo água. Aniston disse que ela conseguiria e perdeu a aposta. Bem humorada, ela fez cara feia depois de comer o biscoito e tomou água logo em seguida.
-----------------------------------------------------------------------------
Marley & Me co-stars Jennifer Aniston and Owen Wilson promote their new pooch flick on German TV show "Wetten Dass…" at Messe Duesseldorf in Germany on Saturday (February 28). During the show, there was a bet to see if a woman who owned 28 huskies could name some of them just from the sound of them slurping from their water bowl. Jen bet that she could do it while Owen bet that she couldn't. The woman identifed four dogs and Jen won the bet! Since they were promoting their dog movie, the Germans made Owen eat a doggy treat. Jen also took a bite of the biscuit in support of Owen.