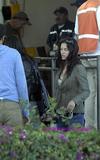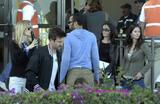 Jennifer Aniston e Courteney Cox, após passarem juntas o Natal vão para Los Cabos, no México, passar o Ano Novo também juntas. As atrizes chegaram no mesmo avião neste domingo dia 28, acompanhadas de David Arquete, Coco, da amiga Laura Dern e do marido Ben Harper. Jen desembarcou no aeroporto mexicano e não estava acompanhada do namorado John Mayer. Mas, de acordo com a "People", John foi para Los Cabos em outro vôo mais cedo e deve ficar hospedado numa outra casa, próxima à Jennifer.
--------------------------------------------------------------------------------
It looks like Jennifer Aniston is spending New Year's Eve in one of her favorite places surrounded by people she loves. The woman with the number one movie in the country arrived in Cabo earlier this week with her BFF Courteney Cox and family along with Laura Dern and Ben Harper's family. Considering John Mayer and his brothers flew out to LA just a few days earlier, we wouldn't be surprised to see the boys ring in 2009 in Mexico as well. Either way, Jennifer couldn't ask for a better end to 2008 and would probably love nothing more than spending Jan.