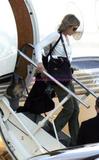 Crise aérea é uma palavra que não existe no dicionário de celebridades, políticos e estrelas dos esportes. De acordo com o "Wall Street Journal", eles recebem um tratamento vip na hora de viajar. Os regalos vão desde limusines e saídas alternativas a salas reservadas e funcionários extras para agilizar o atendimento. Cardápios especiais também são atendidos prontamento. Isto quanto o astro não traz seu próprio chef a bordo para cozinhar. É claro que uma estratégia anti-paparazzi está sempre montada. Recentemente, uma empresa aérea escoltou Angelina Jolie para fora do aeroporto, possibilitando seu trânsito sem nenhum fotógrafo no caminho. Jennifer Aniston também ganhou apoio da segurança no aeroporto de Londres. Eles fizeram uma bolha em torno da atriz impedindo que cerca de 60 paparazzi se aproximassem.
----------------------------------------------------------------------------------------------

That's a headline from today's Wall Street Journal, where The Middle Seat columnist Scott McCartney takes a look at the star treatment VIPs get when they take to the skies. McCartney writes that even with cutbacks at most U.S. airlines, they "still roll out the red carpet for celebrities." He adds "many carriers have 'special service' staffers to speed stars and VIPs through airports and on to planes, or out back doors to limousines. Special rooms, some hidden behind unmarked doors adjacent to gates and some private lounges inside airport clubs, are reserved for politicians, movie stars, sports heroes and other dignitaries." Philip Williams, a British Airways special-services worker at Los Angeles International, tells McCartney: "We are left to our own devices in terms of creativity." Williams proudly tells McCartney that BA recently was able to sneak a major movie star out of the airport while "completely avoiding photographers by devious, but legal, means." Williams wouldn't identify the star, though McCartney points out airport officials say Angelina Jolie recently flew from LAX. In addition to Aniston's name in the Journal's headline, McCartney also makes a reference to her by describing an incident in which she was "trapped" by paparazzi at LAX. Police had to form a "bubble" around her to get her out of the airport, he says. "After that we had three weeks fending phone calls from celebrities asking for security to get them through," an airport spokeswoman says. Among other highlights of the VIP circuit, McCartney tells of "an unmarked door in the concourse (at Washington National that) opens Oz-like to a private waiting room with a wall of autographed photos of members of Congress and movie stars. As for demand, McCartney says while some stars now use private jets domestically, many still fly commercially on overseas trips. And there are also concerns about environmentalism, always a seemingly popular topic among Hollywood stars. McCartney writes "it is tough to champion green causes and then get back on a jet with four people." So, just who qualifies for the star treatment volunteered by airlines? McCartney writes that, "in general, if you have to ask for it, you probably don't qualify for special-services treatment."