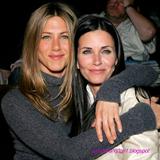 Jennifer Aniston e a cantora Sheryl Crow fizeram aniversário nesta quarta-feira (11), mas ambas fizeram suas festas no fim de semana. Sheryl, que comemorou seu aniversaŕio na sexta (6), compareceu à comemoração de Jen no sábado (7), na mansão da atriz, em Beverly Hills, e contou à revista "US" que "foi muito divertida". Crow revelou ao Extra que Jen passou grande parte da noite dançando com a atriz Courteney Cox Arquette. Sheryl afirma ainda que não soube de nenhuma canção que o músico John Mayer havia composto especialmente para presentear a namorada na ocasião, como chegou a ser noticiado na imprensa. "Não ouvi. Não estou sabendo de nada". Já o presente de Courteney à colega de elenco na série "Friends" foi o desejo de "muita saúde e felicidade". Jennifer comemorou 40 anos, enquanto Sheryl festejou 47. "Somos bastante próximas, é legal", afirmou à "US". "Acho que, conforme você envelhece, você tem sua própria tribo de mulheres com quem amadurece graciosamente e com quem compartilha sua sabedoria. Esse é nosso clã, essa é nossa família, essa é nossa força".
-----------------------------------------------------------------------------------------------
"It was a lot of fun!" Sheryl Crow - who had her 47th birthday party Feb. 6 - tells Usmagazine.com of Aniston's bash at her Beverly Hills home on Feb. 7. (Crow also tells Extra she danced all night with fellow partygoer Courteney Cox.) Asked about a rumored song John Mayer penned for girlfriend Aniston, Crow told Us, "I didn't hear it. I don't know anything about it." Despite throwing parties over the weekend, both Crow and Aniston celebrate their actual birthdays today on Feb. 11. "I'm just going to hang out with my girlfriends during the day and then I'm having dinner with some friends," Crow told Us of her plans. "I may do something crazy like get a massage and a manicure or pedicure. That's about as crazy as it's going to get!" "We're really close. It's nice," Crow told Us. "I think as you get older, you have your tribe of women that you grow and age gracefully with and you share wisdom with. That's your clan. That's your family. That's your strength."