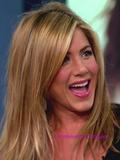 A atriz Jennifer Connelly disse que Jennifer Aniston é um "doce", informa o site Female First. Connelly teve a oportunidade de conhecer Aniston melhor quando as duas trabalharam juntas no filme He's Just Not That Into You. De acordo com o site, Connelly gostaria que ela e Aniston fossem amigas mais próximas para que pudessem sair juntas.
---------------------------------------------------------------------------------------
Jennifer Connelly had such a good time working with Jennifer Aniston, she wishes the two were close friends so they could "hang out" together. The pair met while filming forthcoming movie He's Just Not That Into You and the actress loved being in Aniston's company. Connelly admits she "really wishes" they had spent more time together after hitting it off. She tells Britain's Harper's Bazaar magazine, "I thought she was such a sweetheart. "I've always thought she was very talented and lovely, warm, generous and after the film, I thought, 'Ooh, I want to be her friend. I want to hang out with her."