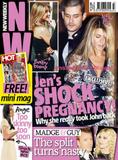 Jennifer Aniston e John Mayer teriam voltado o namoro devido à uma possível gravidez da atriz. Recentemente, o casal foi flagrado várias vezes, entre elas, uma no aniversário e outra na casa do músico, em Los Angeles. O fim do relacionamento de quatro meses foi anunciado por Mayer em agosto deste ano, entretanto, de acordo com fontes próximas, o namoro foi reatado por iniciativa dele.
------------------------------------------------------------------------------------------
After a spate of secret dates, the cat's now out of the bag for Jennifer Aniston and John Mayer, as NW exclusively reveals the reason behind their surprise reunion — the actress is pregnant with his child! The pair made their first outings as a reunited couple last week, enjoying a romantic weekend in New York and a concert in Boston. But while friends are scratching their heads about what made Jen take the playboy musician back, the smile the actress has been wearing says it all — she's pregnant and loving it!